LAWN SPRINKLER IRRIGATION MAINTENANCE AND REPAIR SERVICES
The Sprinkler Guy provides Lawn sprinkler irrigation maintenance and repair services to help save you time, hassle and money.  Why try to fix it yourself over the weekend when you could be hiking in the mountains, fishing at the lake or just lazy dogging around while I toil in the mud?
SPRING SPRINKLER START UP
The Sprinkler Guy will come out, activate and check the sprinkler system, make adjustments where possible and program the timer for optimal watering.  We can also give you some water saving tips and advice on your lawn sprinkler system.
SEASONAL SPRINKLER MAINTENANCE AND REPAIRS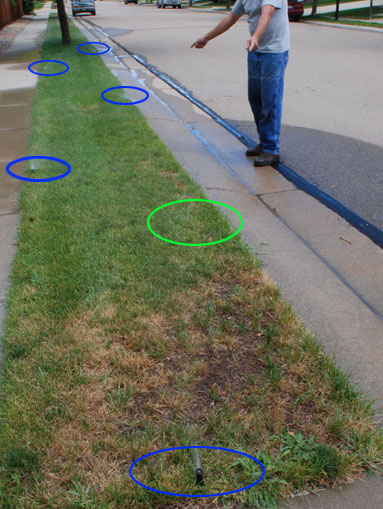 At The Sprinkler Guy we know how to spot problems.  We also have 30+ years of knowledge on how to fix them right the first time. We can save you time and money, as well as save the environment one leak at a time.
EMERGENCY SPRINKLER REPAIRS
No matter what the problem, if you have an emergency sprinkler repair we have you covered.  We will drop every thing in hopes of minimizing damage and destruction at your property.  Call 303-646-2323 or contact us at TheSprinklerGuy.com for immediate assistance.
FALL SPRINKLER SHUTDOWN
Let The Sprinkler Guy put your sprinkler system to bed for the winter.  We use a Sullair 185 truck towed compressor to get even the biggest jobs done in no time at all.  Don't let the neighbor come by with his hand held compressor from one of the big box outlets or one of those dudes in a beat up old truck and a compressor they rigged in their backyard.  Those guys make me sooo much money every year.  No, let The Sprinkler Guy winterize your lawn sprinkler system properly and save you sleep and leave you worry free come spring time.